Insulation Services
Back To Our Services
For many homes around the US, keeping their indoor living areas comfortable in the face of fluctuating temperatures can be a challenge. Summer months can be brutal, making it all but impossible to keep the heat at bay without blasting the AC, while in winter, icy air can only be combatted with the help of a radiator. Unfortunately this could lead to an incredible rise in your household's power expenses since appliances such as these are notorious for consuming more than their fair share of electricity. Fortunately, you can lessen your reliance on expensive heating and cooling equipment in your home, by opting for a solution for keeping ideal temperatures locked in your home by better managing the flow of air within it, and that solution is home insulation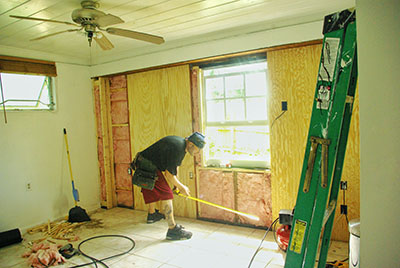 Keeping cool in the summer months
It is estimated that the average home loses around 33% of its heat through the walls in winter. This means that normally, you would need to set aside a fair chunk of your monthly power budget just to keep your home comfortable. Become less reliant on your air conditioner by having your walls insulated to keep hot air outside, while keeping the inside of your home cooler, for longer.
Stay warm in winter
Turning up the dial on your thermostat in the winter months to keep your living areas toasty in crisp weather will almost certainly raise your monthly power costs. Keep that warm air locked in by insulating your attic which will prevent the escape of warm air as it rises.
Call Now for Professional Insulation Services!
So if you are looking to prepare your home for another harsh season, without your efforts affecting your electricity bills, have your home insulated by a professional today. Contact "Air Duct Cleaning Manhattan Beach" today for more information on our services.