HVAC Unit Cleaning
Back To Our Services
It is very important, especially during summer and winter that your HVAC unit is working properly. At the end of the day, an HVAC unit that is properly cleaned and maintained can make life a great deal more pleasant and convenient.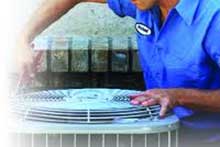 Better Safe Than Sorry
Very often we don't consider how important it is to clean our HVAC unit until it's too late and something malfunctions. Failing to schedule your HVAC unit cleaning can result not only in a reduction of energy efficiency but also result in contaminants being re-circulated into the air you breathe. Our skilled professionals realize just how vital clean air is, and in the event of a breakdown, will ensure your unit runs efficiently and smoothly.
Clean and Maintain Your Unit Regularly
Did you know that when resting, on average, an adult takes between 17,000 and 30,000 breaths every day? What's more, every breath takes in thousands of pathogens and dust particles to our body's respiratory system. So should any component of your HVAC unit fail to function to its full capability, the air quality circulating in your environment is compromised. This causes you to breathe in more contaminants and irritants than is usual. To ensure that your air quality is both clean and fresh, simply replace air filters before they become clogged. It really is that simple to avoid any future respiratory problems.
Take Immediate Action
If your HVAC unit is making unfamiliar noises or emitting a strange smell, don't waste time - contact one of our local qualified technicians in Manhattan Beach. Our experts will visit your property, identify any annoying issues, and deal with them speedily and effectively.
Contact Us Today
Our team at Air Duct Cleaning Manhattan Beach is readily on hand to take care of all your HVAC Unit Cleaning needs. From cleaning to repair and maintenance, don't delay, contact the professionals today.