How to Clean Your Air Ducts Within Minutes
12/16/2013
Back To Blog
Regularly cleaning your air ducts provides improved indoor air quality as well as optimal performance and efficiency of your HVAC unit. Filthy ductwork has the potential to harbor dirt, dust mites, pollutants, bacteria, and even viruses that are harmful if breathed in. Accumulated dirt inside of the ducts causes dust particles to circulate throughout the home. Now you can put an end to all of this unclean air quality by following a few simple steps.
Get Your Supplies Ready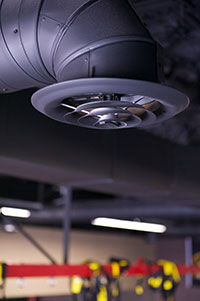 Find yourself a small bucket and fill it with warm water and some detergent. Also, make sure to have a spray-bottle of vinegar and mold removal handy. You will also need a vacuum cleaner, flashlight, a few rags and a mask. Once you have all of these supplies, you are now ready to start cleaning air ducts.
Locate Your Air Duct Vents
Find the air ducts in your in home. These are recognized by metal vents. They are usually located high on the interior walls, only a few inches from the ceiling. However, some may be found lower down the wall or other places that you may find rather unusual. Make sure to do a thorough check throughout your home to locate all of them because you will be cleaning each one in a systematic manner. Clear away any obstructions underneath the air duct vents such as furniture, pictures, rugs, etc. This will prevent dust from getting on these items.
Remove Vent Covers and Vacuum
Position a step ladder underneath each duct you plan to clean. Climb up and remove the vent cover. Some may be pried off whereas others may have screws. Keep a screw driver in your pocket just to be on the safe side. Next, take the nozzle of the vacuum cleaner hose and scrape the insides of the duct to loosen the dirt and grime. Then turn on the vacuum and suck up the dirt, dust, and debris.
Disinfect Your Air Ducts
Next, dip a rag in the warm water and detergent and wipe down the inside of the air duct. Use your flashlight to ensure that you don't miss any areas within your reach; also look for mold. If you do discover mold growth, spray vinegar and mold removal spray on it and wipe it away. Make sure you have your mask securely placed over your mouth and nose. Once you're done, replace the vent cover and move on to the next one.